Who Is Mike Busey?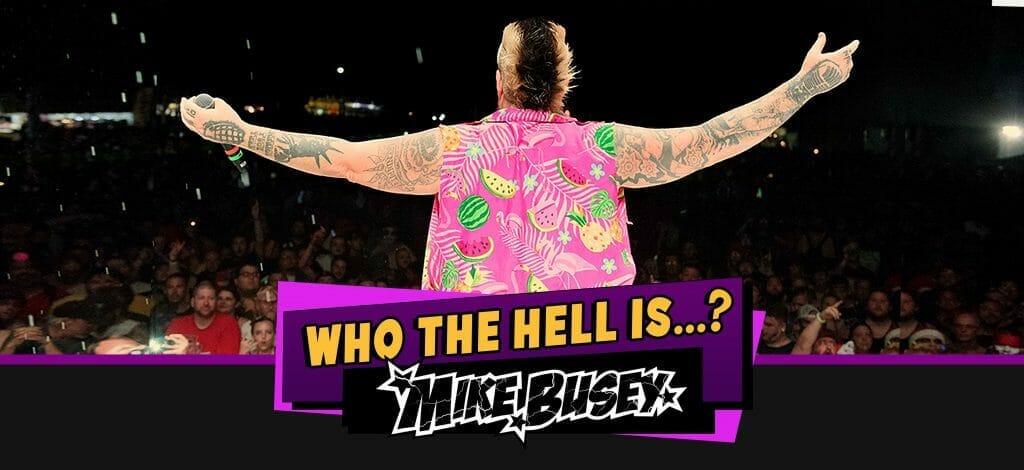 The Sausage Castle, An 80 Acres Estate/ Theme Park Located
In Central Florida Just Outside Of Orlando, Florida
The Sausage Castle Is Known For Wild Parties & Events That Are Frequented By Rockstars, Celebrities, Rappers, Models, Playmates, Pornstars, Reality Stars, Pro Athletes, Comedians, Wrestlers, Movie Stars, TV Networks, Movie Studios, Major Brands, Millionaires, Billionaires, Social Media Influencers, And The Average Joe!
Just A Few Of Our Notable Guests:
Post Malone
Shaq
Machine Gun Kelly
The Nelkboys
Waka Flaka
Bert Kreischer
Dan Bilzerian
Joyner Lucas
Three 6 Mafia
(Click Here To See The Entire List)
Mike Busey & The Sausage Castle Have Been Featured On: Netflix's The Tiger King, VICE, TMZ, MTV, A&E, NBC, ABC, Multiple International Networks, Countless Music Videos, TV Shows, & Movies. (Click Here To See IMDB)
The Sausage Castle Is Much More Than A Location But A Way Of Life! All Walks Of Life Are Welcome Here! No Matter Your Race, Religious Beliefs, Sexual Orientation, Preferred Pronoun Or Political Affiliation you are welcomed! Mike Busey Embraces All Those Who Come With Love & Respect!
Mike Once Attended A Private Christian College Florida Christian College (FCC)
Where He Played Basketball For The Men's Team Averaging A Double Double Each Game. He Went To FCC To Chase His Basketball Dreams & He Also Once Wanted To Be A Youth Pastor. After Mike Was Kicked Out For Calling Out The Hypocritical Christian President Of The College He Started The Sausage Castle.
The Sausage Castle Was Established In 2001. Mike Has Had 8 Different Sausage Castles. All Of The Sausage Castle Were Located In Central Florida. The Sausage Castle Was Given It's Distinctive Name By The female Guest Who Regularly Visited The Home Occupied By Seven Males
The Previous Castle SC7 Was The Longest Continuously Running Castle And Was Located In St. Cloud, Florida On Alligator Lake. Sausage castle 7 Ran For Nearly 10 Years And Was Where Mike First Gained World Wide Attention.
Mike Busey Had A Long Heated Public Battle With Osceola County & Racked Up Millions Of Code Enforcement Fines! This Battle Was Spearheaded By The County Commissioner Fred Hawkins (Mike's Next Door Neighbor) The Osceola County Sheriffs Department & Local Officials. Undercover Cops & The FBI Moved Into The Castle To See WTF Mike Was Up To!

Mike Busey & His Home Have Appeared In Serval TV Shows, Movies, & Music Videos Both Domestic & International
Mike Has Creative Directed, Written, Casted, Filmed, Edited, Set Designed, & Executively Produced Many Small & Major Productions.
Mike Was One Of The 1st Hundred Thousand Content Creators On Youtube & Has Been Deleted Over 17 Time On Youtube.
Mike Was Once Referred As One Of The First Entertainers To Broadcast Live On Social Media. His Original Myspace Account Would Broadcast Live From His Home Taking Live Calls & Talking To Viewers On His Chat Room. Often Broadcasting Wild & Crazy Events & His Famous Friends Hanging Out.

Mike Busey & Co-Host Miguel Colon Jr. Have A Popular Podcast That Airs Weekly On Spotify, Apple Podcast, IHeart Radio, Pandora, & Anywhere You Listen To Podcasts. Warning If You Don't Have A Sense Of Humor This Podcast Is Not For You!
Mike & Miguel Will Take You On A Debaucherous Journey On Their Unorthodox Podcast That Covers Everything From Their Trials And Tribulations To Conspiracies And The Latest Current Events. Don't Expect Political Correctness Or A Safe Place Here.

Mike Busey Has Been Throwing Epic Parties His Whole Life. Becoming A Local Party Legend Lead To Offers From Nightclubs. Now You Must Be A Member Of His Web Site MikeBusey.com To Attend A Sausage Castle Party.
The Members Of MikeBusey.com Are Invited To Monthly Parties Referred To As Members Weekends Held @ The Sausage Castle. Members Weekends Are Like A Fun Fucked Up Summer Camp For Adults! Normally A Friday-Sunday Event With An Itinerary Full Of Nightly Parties, Camping, Drinking Games, Scavenger Hunts, Pool Parties, Contests, Concerts, Wrestling, Stand Up Comedy, & Much More!
Mike Busey Also Does Public Appearances & Host Events, Show, Nightclubs World Wide. Always Bringing The Party!

The Mike Busey Live Stage Show Is A High Energy Show Hosted By Mike Busey & The Busey Beauties, Mike's Sexy Group Of Badass Fire Breathing Ladies! They Are The True Stars Of The Shows. Mike Busey And the Busey Beauties Host Events, Shows, Festivals, TV & Film Appearances And Are Known For Always Bringing The Party!
A Live Crowd Interactive Show Where You Never Know WTF Is Gonna Happen! Mike & His Crew Have Preformed At Some Of The Biggest Events & Shared The Stage With Some Of Biggest Names In The Business! Wiz Kalifia, Snoop Dogg, Machine Gun Kelly, & Many Others!

Mike Has Had Decades Of Strong Music Industry Connections & Has Rubbed Elbows With Everyone! If It's Not Directing A Music Video It's Hosting A Famous Rapper @ His Home Recording Studio. Mike Has Brought Many Huge Names In The Biz Into The Same Room. Busey Has Had A Role In The Stages Of Many Major Recording Artists Careers. He Also Has Been Influential In Helping Developing, Recording, And A&R For Countless Un-signed Talents.
Many Only See The Wild & Crazy Side Of Mike Busey But He Is Also Known For His Huge Heart! Always Active In His Community Helping Single Mothers, The Homeless, Local Schools, & Veterans. Mike Grew Up Poor Living In Trailer Parks & Lived In A Foster Home. Coming From Nothing Mike's Huge Heart Is Always Doing What He Can When He Can…..

ADULT LIFE-
Born Friday Dec 19th 1980 New Orleans, Louisiana Lakeside Hospital @ 5:59AM
Current Location In Central Florida Orlando, Florida Lake County In The City Of Astatula
6'3 Tall 300LBS Plus / Blue Eyes
Started The Sausage Castle In 2001
Has Been Evicted Multiple Times Due To Property Rental Companies & HOA's
Once Conducted A Exclusive Sit Down Interview With Pastor Terry Jones Who Wanted To Burn Koran On 9/11 & Talked With President Barack Obama
Arrested In 2012 Dressed As Santa Claus For Selling Alcohol Without A License All Charges Dropped After Going Viral
Proud Gun Owner Of Nearly 100+ Guns
Proud Pug Owner Jetta The Pug 11 Years Old & Piper The One Eye Pug 1 Years Old
Animal Lover & Rescuer
Once Received A Cease-and-desist From The NCAA After A Weekend Parting With Marcus Jordan Michael Jordan's Son
Never Married No Kids
Never Has Done Any Drugs Not Even Once! Has Not Even Ever Smoked Weed!
Never Drinks Beer & Only Drinks Liquor Socially. Often Goes Weeks Without Drinking. Is A Very Fun Drinker
Started The Sausage Castle In 2001
Proud Pug Owner Jetta The Pug 11 Years Old & Piper The One Eye Pug 1 Years Old
Animal Lover & Rescuer
Once Under FBI Investigation. A Undercover Agent Moved With Him & Even Paid Rent
Osceola County Once Forced Him To Throw Parties & Allow Undercover Agents To Party
Osceola County Burned His Home Down & Had It Immediately Destroyed
Hosted The Gathering Of The Juggalos 6 Years In A Row
Only Man To Have Playboy & Girls Gone Wild Come To His Home
Owns Elvis Presley's Reading Glasses Owned & Worn By Elvis
Owns Pieces Of John Lennon's Favorite Chair
Had Anal Before Vaginal Sex
Wikipedia Once Credited Mike For Being The 1st Entertainer To Broadcast Live On Social Media
Owns The WrestleMania 3 Ring
Has Had 17 YouTube Accounts Deleted
Was One Of The 1st 1,000 Accounts On YouTube
CHILDHOOD-
Graduated High School Class Of 1999 W/ 3.8 GPA
Attended A Private Christian College Florida Christian College Played Basketball
In College Mike Averaged Over 10+ Points & Rebounds Per Game
Once Wanted To Be A Youth Pastor To Help Troubled Youths
Once Had A Sexual Relation With A Teacher In 10th Grade @ Christian School
Mother On e Put An Ad In The Paper To Sell A Shih-Tzu Dog To Pay For His Abortion
Once Appeared On America's Funniest People Doing A Fire Marshall Bill Impression
Been To 15 Different Schools
Was Very Popular In High School & Nick Name Tuna Cause He Was Big & Fast
Was Told His Name Was Andy Brown His Entire Childhood
Wet The Bed Most Of His Childhood
Had Many Traumatic Childhood Experiences While With Playing With Fire
Doesn't Know Who His Biological Father Is
Was Once Dropped Off At A Children's Home
Use To Trade Basketball Cards To Pay For School Field Trips
1st Real Tax Paying Job Was A Dish Washer @ Fat Boys Bar-B-Q Where He Made $5.15 A Hour Worked There For 3 Years
Got In Lots Of Fights And Suspended Serval Times & Still Has All His Report Cards, Detentions, Suspensions, & Referrals
Threw His 1st Party His Sister's Birthday @ The Age Of 10
Use To Sell McDonald's Happy Meal Toys His Mom Brought Home From Work To The Neighborhood Kids For Money
At 8 Years Of Age He Borrowed A Lawnmower & Walked Door To Door Mowing Lawns
Got Expelled In 2nd Grade After Cussing Out The Principal
Found Out His Dad Wasn't Really His Father @ The Age Of 13 While Living In A Foster Home
Lived In A Foster Home With Monkeys